Hi ya'll. I'm back!! hehe. So let me tell you why I'm been kinda M.I.A lately. I started a new job last week!! I'm so excited about it. But it has been craziness. My room is a mess, finding something to wear in the morning is a mission. My car is a mess, eating breakfast while stuck in a 40 min commute is a mission too. My life is a mess, hahah, trying to learn all these words and procedures is also a mission. So basically everything is mayhem right now. But you know what I'm loving it. Although I'm overwhelmed like 80% of time at work, I love being busy and learning new things, and helping people.
But I definitely need to be back here, and writing some posts. I miss it, and I've learned, as I'm writing this that it relaxes me. :) yay for BLOGGING!!!!
----------------------------------------------------
So besides my life rant, today I bring you my Summer Book Swap reveal!!!!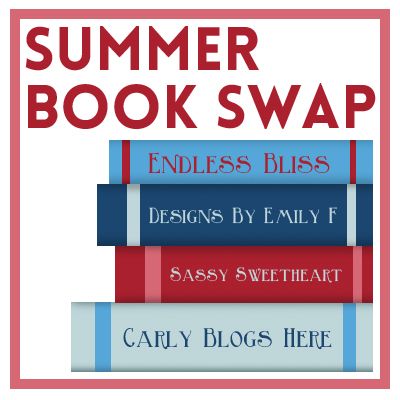 I love Swaps. I love meeting new people. I love sending mail, and of course receiving it. So when I saw this Book Swap I knew I had to jump on it. It was hosted by
Tiffany
,
Emily,
Lauren
and
Carly
. I was paired up with one of the hostess, Emily and she blogs over at
Emily Finta
. So go check her out!!
5 things I learned about Emily.
- Her favorite author is Sarah Dessen (like me!!)
- She's lived in Michigan her whole life.
- She loved listening to Song Covers. Check
her post
for amazing music covers.
- The book that she recently loved reading were The Fault in Our Stars and Where'd You Go Bernadette
- It was her first time participating in a book swap, and she designed the Swap button. How cool!!!
So this is what she sent me!!! I was soooooo excited!!!
Isn't she the best!!! Thank you so much Emily!! I love it I can't wait to start reading it. :)
------------------------------------------------------
Also you still have a couple more days to enter the
giveaway
that I'm co-hosting for Raewyn and Cassi and Katie's Blogiversary celebration. You have a chance to win $100 to a charity of your choice. So go on and enter.