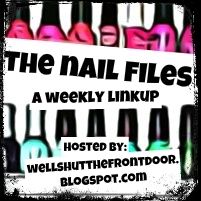 Alright so must I mention again, that I love nail polishes. Remember when I was thinking of starting my own nail polish line, but I was a broke college student and that didn't work out. But I don't know maybe I should revisit the idea. I found this Weekly Link-Up, which is the best thing ever.

Anyways, my nails have been bare for too long.. It was inspired by my lovely friend Pinterest:

Pinspiration

: Reality

: I decided to change it up, and instead of Pink, use Purple. I also added the Gold Polish for more pizzaz. My lines, though, are not the business. I must find a better, thinner brush. I didn't have any studs, so I opted for Gold Puffy Paint. lol. (where does a girl get these tiny studs??)
Nail Polishes Used:
Maybelline Color Show : 70 Bold Gold
Santee Nail Polish: 32 Black
Wet n Wild Megalast: 213C On a Trip
What are on your nails? What are your fave nail polishes?